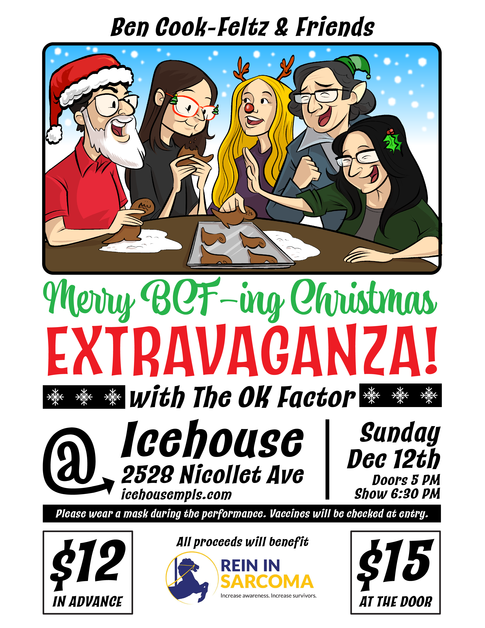 Hi everyone!
Happy December! I do love this time of year. Not in an insane "OHMYGOSHCHRISTMASISTHEBERST" kind of way, and hopefully not in a fabricated Macy's kind of way either, I genuinely love the idea of Christmas, and all of the uncynical promise it has to offer. I'm a sucker for it. My family cherished the holidays, and I do too. It's nice to get things for other people, and to reconnect with family and good friends. Separate of all the capitalist stuff, it's just a wonderful thing to be able to celebrate.
But being that I'm a working musician, I also love playing Christmas shows and selling Christmas music! (Hey, points for honesty right? Who's kidding who here?) To that end, I spent a good portion of 2020 working on a Christmas album, Merry BCF-ing Christmas, which came out last December! It was an album borne of circumstance - suddenly finding myself locked down with a lot more time on my hands than normal (and not writing a lot - I don't write very well under anxiety, it's a character flaw), I wanted to focus my attention on music that brought me joy. So I made a Christmas album! And I got a whole bunch of my friends to be a part of it, usually remotely - awesome musicians whose presence I'd taken for granted, people I expected to see all the time at gigs. We were separated, so they helped me make Christmas music. It was all very lovely, and I'm quite proud of the album. It's available on this website so hey, check it out if you haven't!
Since the record came out in 2020, I couldn't really do any shows to promote it. I mean, I did some really fun livestreams, but nothing in person, you know? This year, I'm rectifying that! I'll be putting on a big holiday show on Sunday, December 12 at Icehouse in Minneapolis. I'm calling it the BCF-ing Christmas Extravaganza! Several of the folks who contributed to the album will be there, as well as other fun musical guests. To note - Sarah Morris, Mother Banjo, Doug Collins, theyself, Jason Roberts, Zachary Scot Johnson, Dan Gaarder and Haley Fleming! Plus the usual BCF crew - Andy Schuster, Jonny Grubb and Cole Mickelson. The OK Factor are opening! A veritable ragtag assemblage!
Tickets are $15 in person, and $12 at the door. You can find them HERE! All proceeds benefit Rein In Sarcoma, an organization whose mission is to educate the public and medical community about sarcomas, support sarcoma patients and their loved ones, and fund research directed toward developing new treatments and finding a cure for sarcoma cancers. We're asking for people to present their vaccination cards, or a negative COVID test, upon entry.
That's all I got for now! New album is coming along, I'm sure there'll be some updates about that as 2022 kicks into gear. Have a wonderful and safe holiday season everyone!